By Doug Borror
As the year comes to a close, it's important to look back and appreciate.
It's been another great year for real estate in Central Ohio – occupancy remains high, home sales continue to grow and urban development is active and in demand.
This year brought renewed interest and enthusiasm for the city we call home and it is invigorating! After living and breathing the Central Ohio real estate community my whole life, it is rewarding to see younger people warming up to the urban core and continuing to make our city better for all.
Borror Properties, Our Growth and Successes in 2015 – It Was a Great Year
After two and a half years in planning, zoning, and construction, Borror Properties has opened The Prescott apartments and 40 West apartments in the Short North! This was one of our proudest moments of the year as the Prescott was a personal favorite.
Each of these boutique apartment communities has its own style and fabulous finishes, and both are renting up quickly.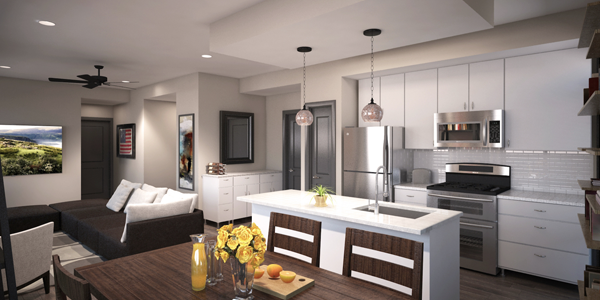 Our custom condominiums, Truberry on Summit, at the corner of Summit and First in Italian Village are gorgeous.  Each one features a private, two-car garage beneath the living space with 2500 square feet of spectacular Short North living above. These you need to see!
We have broken ground on the dual site in Victorian Village at Dennison and Second. The Jerome – a 54-unit apartment building with high-end finishes, covered parking underneath, and an open-air gathering area on top – will be leasing in the spring. Next door are 16 gorgeous condominiums with rooftop living.
We have a Victorian on the park in Italian Village that has been renovated on the outside, and is being completely updated on the inside. This is someone's dream home in an urban setting. Call us for a tour!
Our Property Management business is booming, and our construction and development teams have been kept very busy.
What's Coming for Borror Properties in 2016 
The Castle is in the approval phase for 10,000 square feet of retail, 12,000 square feet of commercial office, 100 apartments above, and a 204 space public parking garage. The White Castle restaurant operates on-site today and is a big part of the new design.
Truberry on Hubbard showcases three very contemporary (almost industrial) "New York Loft-Style" condominiums. It is framing now.
The Mainline is also in the approval process with 100 boutique apartments right in the River Front District at Front and Main. With just a short walk to the Courthouse and other key Columbus businesses, it will be a prime hot spot for Urbanites.
Each of these accomplishments and works-in-progress are not possible without our fantastic, supportive team. They keep us moving forward!
It is a very exciting time to be a part of the fabric of urban Columbus – and we look forward to 2016 with excitement, commitment, and dedication to creating great places to live and work in Central Ohio.