BORROR creativity reaches beyond amazing places to live, they display their artistry through their yearly team holiday celebration, and with this year being their 10th year in business, the party did not disappoint.
Over the past 10 years, the BORROR team has celebrated the end of the year in many ways as they have continued to grow their team. From the year of the "Holiday Holiday Party" celebrating every holiday to when "BORROR Turned the Short North Upside Down" by hanging Christmas trees from the rafters and painting upside-down arches on the walls of an empty warehouse.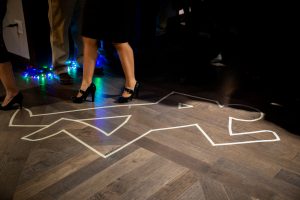 Given that 2018 was a big year for BORROR, they knew they needed an equally amazing holiday party in their new offices at 985 High. When BORROR President, Lori Steiner, came up with the idea of a murder mystery, she knew she had found the perfect theme. Working closely with the team at The Dinner Detective, they dreamed up the perfect murder.
The victim was an easy choice; CEO and visionary Doug Borror was the perfect target with his fun-loving personality and anything-but-amateur acting skills. This fun and energetic dinner-theatre event started with Doug entering the party with a faux-knife held to his chest, post-"stabbing", and landing in the middle of a tape-outlined body on the floor. The audience was a mixture of awe and giggles from the show when the detectives came out. The rest of the story was up to the actors from The Dinner Detective, some of whom blended in as new BORROR employees, while others worked the case as detectives.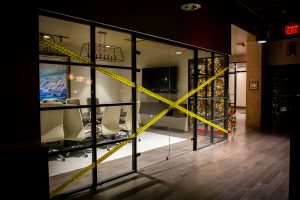 Longtime caterer and friend, Mary Beth Zakany, helped the party come to life with caution tape décor, Clue® themed table names, and her amazing food. She even supplied the perfect disguise for the murderer, one of her server's chef coats.
As always, the BORROR team had a great time. BORROR is proud to give a special night back to its team to celebrate the team's hard work in 2018.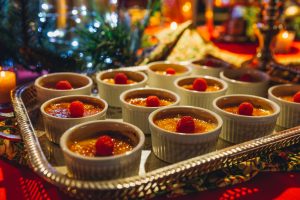 To commemorate our 10 years, we wanted to share 10 years of holiday festivities;
2009 – BORROR Family Feud at Karric Place of Dublin
2010 – The Team Goes Caroling in their future office
2011 – Holidays Around the World
2012 – Celebrating the Holidays with Holidays
2013 – Holiday Party of the Decades
2014 – Turning the Short North Upside Down
2015 – Winter Wonderland White-Out
2016 – Holiday Hat Party
2017 – It's Going to Get Ugly with Ugly Holiday Sweaters
2018 – Murder Mystery at BORROR
Photos taken by Carey Keny.